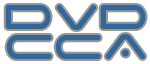 About DVD CCA
The DVD Copy Control Association (DVD CCA) is a not-for-profit corporation with responsibility for licensing the CSS (Content Scramble System) to manufacturers of DVD hardware, discs and related products. Licensees include the owners and manufacturers of the content of DVD discs; creators of encryption engines, hardware and software decrypters; and manufacturers of DVD Players and DVD-ROM drives.
The Content Scramble System (CSS) is the protection system that has enabled the owners of movie content to provide consumers access to high quality DVD movies for home viewing on their video systems and computers. CSS is made available to allow product manufacturers to offer exciting products for consumers to use to enjoy DVD motion pictures while also protecting those motion pictures from unauthorized duplication, protecting from infringement the intellectual property contributed by the many writers, directors, actors and producers who create such works.
The creation of DVD CCA and CSS in the late 1990's was the final critical step that opened the door to high quality DVD movies and other entertainment being available for consumer enjoyment in the home, car and an ever-growing number of places.
DVD CCA / CSS Facts
DVD CCA is over 15 years old.
CSS encryption keys are free and easy to order for CSS Licensees in good standing.
CSS is licensed in every continent except for Antarctica.
CSS Licensee is obligated under Section 10.4(c) to designate a California Agent, regardless of where the licensee is situated.
CSS Procedural Specifications are downloadable from this website.
DVD CCA is a not-for-profit corporation and CSS is provided "royalty free" to Licensees.
DVD CCA does not provide CSS licensing on an intermittent or sporadic basis.
Most Blu-ray players can play CSS encrypted DVD discs.
There are more than 80,000 CSS encrypted DVD titles available.
CSS, the content protection technology used on many DVD titles, does not in any way interfere with a computer's operation. CSS is designed to be completely transparent and non-invasive during normal playback, and does not install any software or file of any kind when played on computers or any other playback device.